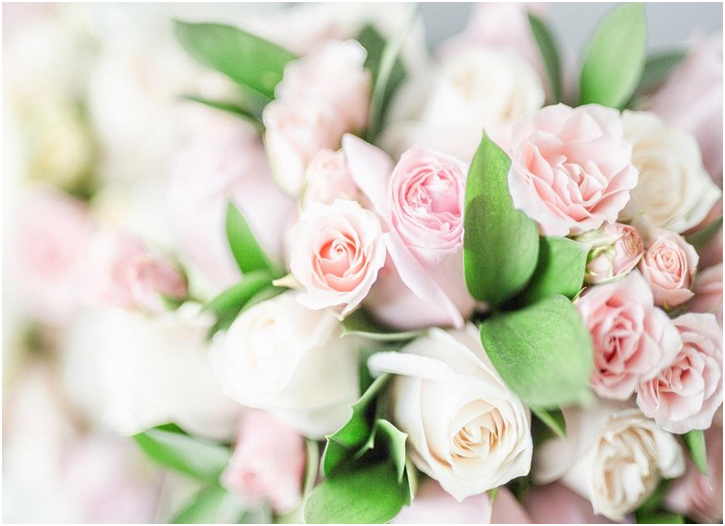 It is no secret that weddings are stressful to plan, but when it comes to choosing the wedding flowers, it is going to be even more overwhelming. You not only need to choose what kind of floral arrangements you want, but you need to explain it to your florist. On top of there being thousands of styles as well as colour schemes that you can go for, you will also need to think about which blooms you want. That is particularly hard when you are not a flower person. So, if your wedding is coming soon, and you are overwhelmed with the plethora of different options you can choose from, here are the 10 most popular flowers for weddings. Maybe you will fall in love with one of these flowers and your search will be over and you will have the most magical wedding.
Garden Roses
The most popular and something that everyone knows about is garden roses. But if you are not a flower expert then you will likely not know that there are two general groups of roses that you can choose from in the floral industry. There are standard roses as well as garden roses.
Standard roses are the roses that first come to mind when you are thinking about the flower. They have long stems and they are the classic rose shape which is a tightly cupped bloom that gets the shape by its petals overlapping.
On the other hand, you have the garden roses. They are quite a loose term, but in most cases, it refers to those roses that are particularly bred to have a denser petal pattern. That results in having a fuller, more romantic look. Something that you need to look out for also is the fact that garden roses are more scented than regular roses, so if you don't want your bouquet to be fragrant, this might not be the option for you. The most popular garden roses are the Julliet which is a soft peach colour, Patience which has a pale-yellow centre and ivory petals followed by a fragrant smell as well as the Distant Drums which are blue and lavender colours.
When it comes to garden roses, their prime season is during spring and summer, even though you can sometimes find them in flower shops all throughout the year.
Peonies
In the second place, we have peonies, they are just as popular as roses when it comes to wedding flowers, especially in Australia, for a very good reason. If you are looking for a fun spring flower that is also fluffy and romantic, these are perfect for you. What makes them so lovable is the fact that they come in so many different colours starting with the neutrals such as white and cream to more vibrant colours such as yellow, pink and red. A lot of brides will choose them for their bouquet arrangements as well as incorporate them with reception centrepieces to make their spring weddings breath-taking with that spring vibe. The only downside to them being such a popular spring wedding flower is the fact that they are quite expensive, so be mindful of your budget when you are picking your flowers.
Tulips
Even though you might not think that tulips are popular wedding flowers, a lot of brides will go for them as they are so magical and they have a lot of meaning. They are most often associated with the Netherlands, but what people don't know is that they are actually native to Persia. Originally, they represent happy years and consuming love, so if you want to have something more meaningful rather than just having pretty flowers, there is the best option. ON top of that they are some of the most affordable wedding flowers you can get and they come in a wide variety of colours. You can go for whites and creams, pastels ranging from pinks to yellows or super vibrant shades like purple, magenta or red. But if you want to go all out, you can choose some of the more unique rare ones. Whichever you choose to go for, they will enhance your wedding setting and create a more relaxed venue.
The most popular types of tulips for weddings are French tulips that have very large tapered blooms, Dutch tulips that are found at any florist shop and parrot tulips that come in intense colours and have struggled with striped petals.
Lily of the Valley
For those who are looking for something more elegant and whimsical, Lili of the Valley is one of the best things you can choose for your wedding. They are amazingly scented beautiful flowers that are often called the ladder to heaven. What makes them even better is the fact that they are available throughout the year and they are at a good price, so they will fit in most budgets. But keep in mind that they are quite fragrant flowers, so they might not be the best fit for table centrepieces as not everyone can tolerate the smell all throughout the night or when eating. Even though a lot of people choose the standard white lily, they also come in a rare pale pink colour, but that is harder to find and more expensive.
Hydrangeas
Another very popular wedding flower is hydrangeas. They come in so many breaking beautiful colours such as pinks, blues, purples as well as burgundy. That makes them super easy to incorporate into a wedding theme. One of the most popular types that a lot of brides go for is the ones that will change their colours as they grow depending on the acidity level of the soil, they are in. They will start from bubblegum pink and slowly turn into a beautiful sky-blue shade. Colour changing hydrangeas are the best option for those who want something more colourful but still subtle. You will be able to have a couple of different shades in just one flower, which makes it really unique.
Orchids
For those brides who like the look of house plants and want to incorporate that look into their wedding to make it a bit more casual and private, orchids are the best thing that you can incorporate into your wedding. But instead of creating the tacky aggressive orchid arrangement, make sure that you are choosing a more interesting approach. There are many shops that sell unique flowers in Sydney especially, that will have amazing colours such as pastel shades, dusty hues as well as more sherbet like colours. When it comes to these flowers, less is always more as you don't want to create a tacky look.
Sweet Peas
Another very popular wedding flower is sweet peas. If you are looking for something dainty and elegant while beautiful and fragrant, this is the best choice. They have a very faint and lonely fragrance and cute ruffled petals. The most popular way to make them into a bouquet or arrangement is simply to tie them with a silk ribbon. They are the best if you want to add a more feminine look to your wedding. But that is not all, what makes them even better is that why come in so many pretty shades such as pink, blue as well as burgundy and everything that comes in between.
Baby's Breath
If you want to add some pureness and innocence to your wedding, the best thing that you can do is choose the baby's breath. They are one of the most inexpensive options when it comes to floral arrangements. They have a very subtle fragrance and they are the most popular option for flower crowns and boutonnieres.
Hellebores
Another very popular flower for those who want something graceful yet colourful is the Hellebores. They come in so many shades such as mauve, black, ivory, green and so many other amazing ones. They are a great choice for bouquets as well as hair flowers as they hold their water really well, so you won't have to worry about it dying way too quickly. Their prime season is the end of the winter and early spring, but they are the most popular choice for those who are having winter weddings.
Gardenia
The last flower on our list is the beautiful Gardenia. They are accompanied by magical dark green leaves and an amazing sultry scent. They are the most popular centrepiece flower as well as bouquet accents. A lot of people are scared to choose them as they are quite delicate and bruise easily, but they are worth it as they come with amazing large blossoms that will make your wedding look that much more magical.
Something that will make it a lot easier to choose is understanding that you don't need to be an expert in flowers to be able to choose the best one for your wedding. Always choose what you think suits your personality, venue as well as wedding theme. Another thing that will make the whole process easier trusting your florist. It is their job to make arrangements that will look stunning in your wedding photos as well as in person.