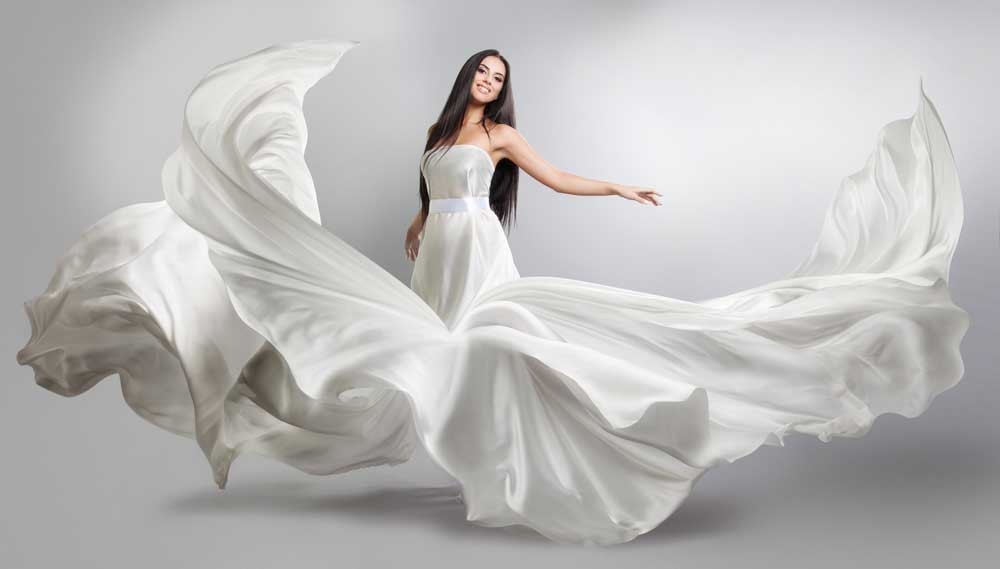 A variety of styles and models of wedding dresses ca is achieved, among other things, by choosing a bridal fabric of a specific texture, which will make the future outfit light and airy or luxurious, multi-tiered, solemnly heavy.
Wedding dresses made from the same fabric, but differing in cut and style, will look very different and dissimilar, which will allow you to choose an outfit for every taste with its own "zest":
chiffon dresses will give the bride lightness, tenderness, and air-flowing weightlessness. A train made of this soft fabric will be a great addition here, and the top can be decorated with beautiful thin lace. The original idea of ​​a wedding dress made of such material will be the use of a snow-white color scheme with a slight color gradient towards the train of the softest tones: pale blue, pinkish, and so on;
an outfit made of natural silk can be sewn in a straight silhouette so that the skirt drapes and flows beautifully. Still, there is also a second option for making this special wardrobe item of silk fabric: to create a real princess dress with a fluffy, voluminous skirt and an elegant, luxurious top. If the upper part is relatively closed and devoid of cutouts, an elegant tiara, veil, or a beautiful headband will become an obligatory addition and decoration. This will give the image completeness and integrity;
the bride in a dress made of guipure, sewn in a feminine style " year, "will emphasize the dignity of the figure, and the combination of the main guipure fabric with openwork lace will make this dress special and truly memorable;
a wedding dress in a modern style can be sewn from a jacquard. This fabric holds its shape well, but at the same time, it is not too thick, which allows you to create an A-line dress with a not too full skirt. Properly laid folds on the jacquard fabric will form a beautiful, elegant bottom and add solemnity to the bride's image. A jacquard dress is ideal for a wedding in the winter season, as this material will not allow the bride to freeze on a walk;
brides in lace dresses look unusually tender. This fabric will require a minimum of additions with the help of jewelry, as it perfectly fulfills the role of the main decoration. The transparent lace fabric of a bright white shade contrasts perfectly with the color of the skin and transforms any, even the simplest style of a dress;
satin, a festive, shiny, and reflective fabric with a fairly dense texture, is a wonderful choice for making a wedding dress. A fluffy satin skirt in combination with an exquisite corset will create the image of a princess-bride, and light reflection will enliven the dress with soft tints;
crepe is ideal for creating a wedding dress in the Greek style or with a high waist and a flying skirt. This fabric can be combined with lace, jewelry, and all kinds of accessories in bracelets, earrings, and necklaces. In addition, this outfit will be comfortable to wear and very unpretentious, as it wrinkles a little;
Although organza in wedding dresses is often not the basic material, it is widely used for sewing veils, trains, and the upper layer-sheath of the dress itself, transforming it and adding splendor without adding excessive volume to the bride's figure.
Conclusion
Numerous dresses, various styles, and dressmaking fabrics allow you to choose an outfit for the most demanding taste and any figure. The suitable material will guarantee comfortable wearing in any weather, whether a sunny hot summer or a frosty, snowy winter.